Archaeologists discover ancient Christian inscription with a surprising origin – Middle East – International – News
Inscription was made by Georgian Christians who settled in Israel.
Archaeologists have discovered a beautiful, 1,500-year-old Christian mosaic in Israel. The work of art is dated to 539 A.D. and is undergoing restoration.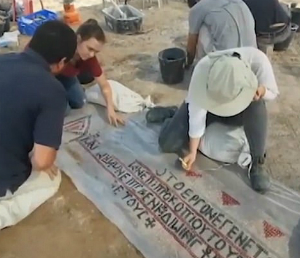 The inscription reveals the presence of Georgian Christians in Israel.
LOS ANGELES, CA (California Network) – Sometime around 539 A.D., Christians in the community of Ashdod in Israel created a gorgeous mosaic honoring the builder of the monastery where it was uncovered. The mosaic features a Greek inscription that provides the date it was created. 
The inscription reads: 'By the grace of God, this work was done from the foundation under Procopius, our most saintly and most holy bishop, in the month Dios of the 3rd indiction, year 292.'
The year, recorded in the Georgian calendar, correlates to 539 A.D. The Georgian calendar, not to be confused with the Gregorian calendar. That calendar was used by Christians of Georgian ancestry who settled in the area. 
In the sixth century, the city of Ashdod was largely Jewish but also contained a vibrant Christian community. The monastery is the first Georgian monastery discovered on the coast of Israel. 
The discovery suggests Christians often moved and congregated together, in this case, a community from the Caucuses, traveled all the way to Israel to settle near the coast. 
—
Copyright 2017 – Distributed by THE CALIFORNIA NETWORK
Pope Francis Prayer Intentions for OCTOBER 2017

Workers and the Unemployed. That all workers may receive respect and protection of their rights, and that the unemployed may receive the opportunity to contribute to the common good.