The tragedy of North Korea's missile program is that it changes nothing – Asia & Pacific – International – News
The people continue to hunger and toil.
North Korea's successful test of the Hwasong-15 missile demonstrates that the Hermit Kingdom can now strike any point in the United States. It does not mean they can deliver a nuclear warhead, however experts think this capability will be perfected next and could be demonstrated within the next one to two years. The question now is, does this change anything?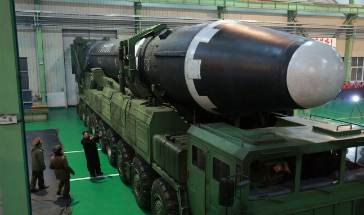 North Korea's new missile doesn't change anything. It doesn't feed their people or end poverty in that country.
LOS ANGELES, CA (California Network) – Does the North Korean development of a long-range missile change anything? This is the question political experts are grappling with as North Korea announces the conclusion of its nuclear missile program. 
North Korea has shown itself to be a proud, cunning, and defiant adversary to the United States and much of the world. Thanks to the state's ruthless totalitarian regime, the powers that be in North Korea have been able to develop an intercontinental ballistic missile (ICBM), as well as a nuclear bomb, regardless of international condemnation and sanctions. The common people of North Korea are essentially conscripted and enslaved and are forced to go without the basics of a decent living, but the regime is doing well. 
 North Korea has developed their nuclear missile option as a hedge against U.S. aggression, or so they claim. If the United States should attack North Korea, the North will soon be capable of retaliating with a nuclear strike. While few people doubt the United States could destroy the North Korean ruling regime, the regime could inflict millions of civilian casualties on Americans as a final act of defiance. This is a price no rational American leader would be willing to pay. 
However, there is one fact that is being ignored. The United States has no serious, practical plans to invade North Korea and has never had any such plans since the end of the Korean War. 
Therefore, the North Korea nuclear program doesn't change anything. Americans have nothing to fear by doing what they have always done, which is –not invading North Korea. 
In the unlikely event of war, the U.S. would make hunting down and destroy the North's missile launchers a high priority. And if a missile could be launched before its launcher could be destroyed, it might be intercepted in flight by missile defenses. 
Despite the development of a missile, and we assume the pending perfection of a nuclear warhead nothing changes. Perhaps that's the greatest tragedy of all. North Korea has spent massive amounts of money on their military. Money that could have been spent feedings the people or building infrastructure, or modernizing the nation with modern hospitals and other essential facilities. Instead, North Korea has a powerful weapon, which serves a propaganda purpose alone.
Meanwhile, the people continue to toil and hunger to appease masters who have no regard for them or anyone else. 
Nothing has changed. 
—
Copyright 2017 – Distributed by THE CALIFORNIA NETWORK
Pope Francis Prayer Intentions for OCTOBER 2017

Workers and the Unemployed. That all workers may receive respect and protection of their rights, and that the unemployed may receive the opportunity to contribute to the common good.