Saint of the Day for Monday, March 5th, 2018 – Saints & Angels

St. John Joseph of the Cross was born about the middle of the seventeenth century in the beautiful island of Ischia, near Naples. From his childhood he was the model of virtue, and in his sixteenth … continue reading
More Saints of the Day
---
---
Tomorrow's Saint

Colette was the daughter of a carpenter named DeBoilet at Corby Abbey in Picardy, France. She was born on January 13, christened Nicolette, and called Colette. Orphaned at seventeen, she distributed … continue reading
---
---
More Saints
---
---
---
Saint Feast Days by Month
---
---
Browse Saints by Category
---
96.

Dominic Savio was born on April 2, 1842 in the village of Riva in northern Italy. His father was a blacksmith and his mother a seamstress. He had nine brothers and sisters. His family was … continue reading
97.
Saint John of the Cross was born Juan de Yepes y Alvarez, in Fontiveros, Avila, Spain in 1542. His father was employed by wealthy family members as an accountant, but they disowned him when … continue reading
98.

Saint Charles Borromeo was born on October 2, 1538 at the castle of Arona on Lake Maggiore near Milan. His father was the Count of Arona and his mother a member of the House of Medici. He … continue reading
---
---
---

St. Joan of Arc is the patroness of soldiers and of France.
On January 6, 1412, Joan of Arc was born to pious parents of the French peasant class in the obscure village of Domremy, near the province of Lorraine. At a very early age, she was said to have heard the … continue reading
---
---
---
---

Saint Michael the Archangel isn't a saint, but rather he is an angel, and the leader of all angels and of the army of God. This is what the title "Archangel" means, that he is above all the others in rank.
St. Michael has four main responsibilities or offices, as we … continue reading
---

St. Gabriel is an angel who serves as a messenger for God to certain people. He is one of the three archangels. Gabriel is mentioned in both the Old and the New Testaments of the Bible. First, in the Old Testament, Gabriel appears to the prophet Daniel to explain his … continue reading
---
---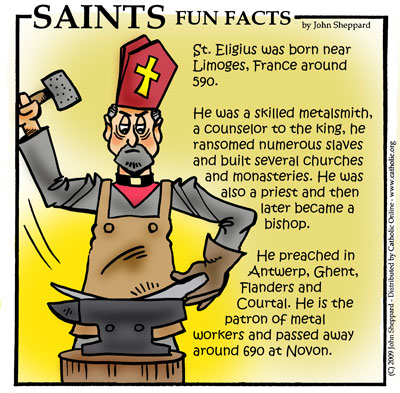 Eligius (also known as Eloi) was born around 590 near Limoges in France. He became an extremely skillful metalsmith and was appointed master of the mint under King Clotaire II of Paris. Eligius developed a close friendship with the King and his reputation as an … continue reading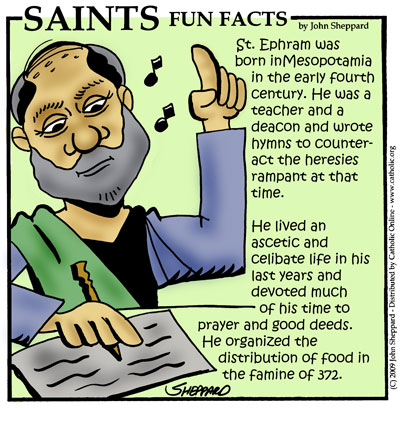 "I was born in the way of truth: though my childhood was unaware of the greatness of the benefit, I knew it when trial came." Ephrem (or Eprhaim) the Syrian left us hundreds of hymns and poems on the faith that inflamed and inspired the whole Church, but few facts … continue reading
---
---
---